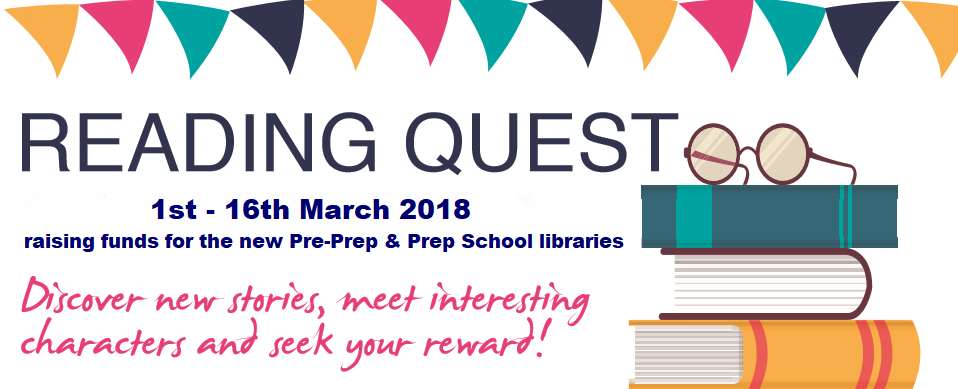 A HUGE thank you to GW mum Belinda Hermans, Graphic Designer at www.doodledesignhouse.com for her amazing artwork on this project.
What is this new fundraiser?
The children will be invited to get sponsorship for reading books, comics, plays, poetry etc over a 3 week period. The initiative will be launched on World Book Day, Thursday 1st March 2018 and will end on Friday 16th March.
Children from Year 1 to Year 8 will be given a School Bookshop £1 Token as a gift from Fogwa, to spend in the school bookshop. The book(s) they buy will hopefully kick-start their sponsored Reading Quest. EYFS will not take part. It is not compulsory for Years 1-8 to take part but we hope the rewards and a spirit of Year Group competition will encourage a good take-up.
What if my child is not a strong/keen reader?
The idea is that parents will sponsor their child to read in whatever way they choose - so children who are less able might be sponsored per page or per line - whilst the more fluent readers could be sponsored per chapter or per whole book, etc. The sponsor-form will make it clear that it's up to family and friends to tailor their sponsorship to the child's ability. The Bookshop stocks dyslexia-friendly books. And the children can read whatever they like, from comics to magazines!
What's in it for the children?
Each child gets a free book from the School Bookshop which they choose themselves with their special £1 GW Bookshop Book Token. (Years 1 and 2 will visit the bookshop in their classes)
For every £10 they raise, they will receive a School Bookshop £1 Reward Token, which they can use to buy more books.
If they raise £100 or more they will receive a School Bookshop £10 Reward Token plus a £5 credit voucher to spend at the Summer Party.
The Year Group which raises the most money in years 3-8 will get a Home Clothes day as a reward
The class in Year 1 and 2 which raises the most money will get a Home Clothes day as a reward.
What's in it for Fogwa?
Fogwa will bank the sponsorship money which should ensure it at least breaks even but hopefully makes a good profit. Reading Quest ends Friday 16th March. Sponsor monies are due in by Weds 21st March.
Fogwa will also use the sponsor form to encourage parents to register for easyfundraising.org.uk, by offering a free gift to all children whose parents sign up.
What's in it for the School?
Funds raised will be put directly towards buying icing-on-the-cake items for the new Pre-Prep and Prep School libraries which will hopefully be installed over the summer holidays.
This scheme will hopefully create a buzz around reading and get children excited about it. The teachers are fully behind the initiative and will support the Reading Quest in the classroom.
The Reading Quest will also promote the School Bookshop, encourage children to visit the Bookshop who might not have done so before, and will introduce the Pre-Prep children to the Bookshop.
What's in it for parents?
It will cost you a little money, but as the scheme is encouraging your children to read more, we hope you will approve and support it.